June 25, 2018 - 617 views
Phil Garland (1942 - 2017) was a folk musician and folklorist from Christchurch, New Zealand.
Phil Garland is one of New Zealand's true musical treasures, a respected folklorist and musical balladeer who has recorded 18 albums. For over 30 years his mission has been to gather and preserve for posterity the stories and songs of New Zealand.
Phil's music career started at school when he made the finals of a talent quest. He then played regularly in a Christchurch Rock 'n' Roll band, "The Saints" before leaving to form his own group "The Playboys." The band visited Auckland for a short time in 1962 and while there, Phil recorded "Little Band Of Gold" which went to number one on the Coca Cola Hit Parade later that same year.
When he returned to Christchurch in 1964 Phil began to develop an interest in folk music. He travelled to Britain and Europe performing the few Kiwi songs he knew at the time. On returning to New Zealand Phil founded the Christchurch Folk Centre which he ran for 8 years. He also founded the Christchurch Folk Music Club and is one of only three life members some 40 years on.
During this period, Phil Garland performed extensively throughout New Zealand and Australia. In 1971 Rotary International recognised his influence and presented him with an award for his contribution to New Zealand entertainment. Two of Phil's songs were selected to represent this country in The United Nations Songbook.
Radio New Zealand commissioned him to write a musical documentary for national broadcast during 1977. This programme, Landfall New Zealand, was selected from 60 international entries to win the prestigious Hoso Bunka Award in Japan. In 1981 Phil Garland appeared on the American TV show "Our Amazing World" singing traditional and original New Zealand songs to an estimated audience of 60 million viewers.
Further plaudits and awards were to follow when his album "Springtime In The Mountains" won the inaugural Folk Album of the Year at the New Zealand Music Awards in 1984. Phil's musical contribution to the peace album "Send The Boats Away" two years later, helped it achieve a similar status in 1986. After his relocation to Australia in 1987, two further albums "Hunger In The Air" in 1987 and "Wind In The Tussock" in 1989 also reached finals selection in the New Zealand Music Awards.
Phil made an immediate impact on arrival in Australia, guesting as one of the headline artists at the National Festival, which publicised him as follows" New Zealand's loss is our gain" and "You will be hearing a lot more of Phil Garland and his wonderful music". After gaining a three month residency at the Sheraton Hotel in Alice Springs, where he entertained over two hundred tourists nightly, his original contract was extended indefinitely by popular demand, leading to further appearances as a guest performer with the "Australian Bicentennial Travelling Roadshow" in 1988.
Moving to Perth, Phil recorded two further albums "How Are You Mate?" (1990) and "Waiting For News" (1993) with his band 'Bush Telegraph'. He received an award from the Armadale Council for his contributions to the W.A. music scene throughout 1994-95. The 'West Australian' newspaper in Perth described Phil as "Cultural wealth from New Zealand" while yet another called him "The voice of Australia and New Zealand".
Phil Garland returned home to his beloved New Zealand in 1996, celebrating his arrival with the release of a compilation CD "Under The Southern Cross" and the publication of his first book "The Singing Kiwi" containing over 120 songs and tunes which highlight the valuable research and collecting work he has undertaken during the last thirty years.
In 1998, Phil released a new album entitled "A Sense Of Place" to much critical acclaim. Backed throughout by "Bush Telegraph" this collection of original songs celebrating New Zealand's culture and heritage, demonstrates a slight shift in musical direction and highlights a new approach to his internationally recognised songwriting abilities. A successful nationwide tour followed its release.
Based in rural North Canterbury, Phil has been kept busy performing in concerts and festivals around New Zealand. As well as solo appearances Phil is also the leader of two bands "Bush Telegraph" and "Shagroon" which frequently perform at venues throughout the South Island.
The Swag o' Dreams album released in 2001 features a wide and varied collection of songs helping to commemorate 150 years of European settlement in Canterbury. Phil toured widely throughout Australia and New Zealand during 2001 and 2002 promoting the new album. The CD received excellent reviews and was a short-listed finalist for the folk category of the New Zealand Music Awards for 2002.
2003 saw Phil performing at Ferrymead Historic Park - the Gore Moonshiners Festival - Hokonui Moonshine Museum - various A & P shows - The Clan MacLeod gathering - Otago Early Settlers Assn and folk clubs throughout the country. He composed a special song "Bright New Day" in honour of the first frozen meat shipment to leave from Totara Farm Estate in 1881.This song was officially premiered at the historic site's redevelopment opening day in November. Phil then celebrated 40 years association with folk music in New Zealand during 2004, something that saw him appearing at Canterbury and Wellington festivals as well as undertaking a highly successful Australian concert tour during August and September.
April 2005 saw the launch of a new album 'No Place like Home' with Phil touring the Country promoting its release. Kiwi audiences loved the album so much, that stocks had to be totally replenished midway through the tour. The remainder of the year saw him researching and writing new material for the Southland tourism and heritage project entitled 'Southern Odyssey.' The new songs were recorded at Gore in March 2006, before final mastering was completed in Christchurch during January 2007.
The newly formed Christchurch Rock'n'Roll hall of fame 'ROCKONZ' honoured Phil with a Lifetime Achievement Award in March 2007 and he followed this up by performing as a special guest at the 'Bards, Ballads & Bulldust Festival' in Naseby at Easter weekend. Phil spent September successfully touring Australian folk clubs and Music Festivals yet again, arriving home to celebrate the official release of the 'Southern Odyssey' album, which he duly launched at the Cardrona Folk Festival in October. The new album was nominated for a 'Tui' in the folk music category of the N.Z. Music Awards and won best folk album for 2007, which was announced at the Auckland Folk Festival in late January 2008.
Phil's major opus Faces in the Firelight was published by Steele Roberts in 2009 and was well promoted as Phil toured widely throughout New Zealand and Australia that same year. The new book looks at New Zealand history through folklore and song, featuring much of Phil's collected work along with gems from the New Zealand Folklore Society archives.
The Phil Garland songbook is now available after some four years in the making. It features lyrics, music and chords to over 50 songs culled from four of Phils' most recent albums.
Early in 2012 Phil launched a new album Damper, Duff and Doughboys, which is a themed collection of songs rooted in New Zealand's rural heartland. He subsequently toured throughout New Zealand that same year and Australia in 2013 promoting its release.
Billycan Ballads is Phil's latest album released in 2014 - a musical tribute to the Kiwi balladry of the late Joe Charles. Right on cue, coinciding with its release came the news that Phil had been awarded the QSM (Queen's Service Medal) in the 2014 Queens Birthday Honours List, for services to New Zealand folk music.
Source
Top Tracks
1
Cheer, Boys, Cheer
2
Canterbury Jigs
3
Beneath The Tussock
4
Kawarau Gold
5
Down in the Brunner Mine
6
The Stable Lad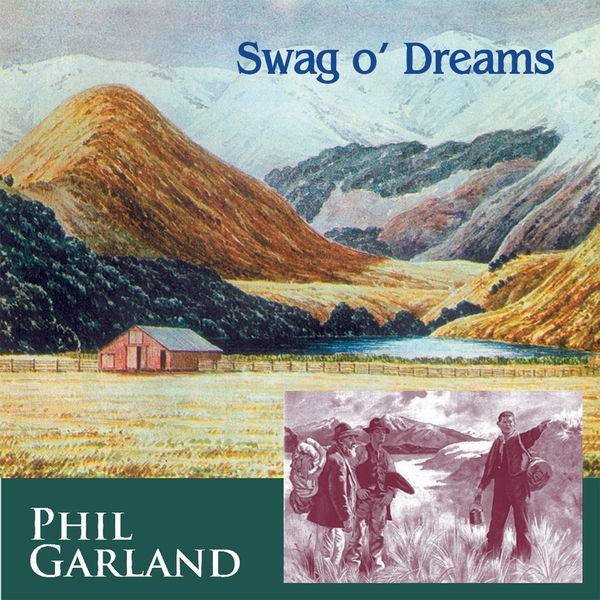 7
Come In Spinner
8
You Are The One
9
Black Billy Blues
10
I'm A Young Man
Top Albums
springtime in the Mountains
tracks
Colonial Yesterdays
tracks